【简介】
转换自epwing的《ブリタニカ国際大百科事典·小項目版(2000)》。
Kotobank上的版本更新,但是缺少图片公式等诸多信息。
此《ブリタニカ国際大百科事典》是第一个非英语的《大英百科》版本,是大英百科日本的合资公司TBS-BRITANNICA编纂的。它并非是《大英百科》英语版的直译,而是有很大本土化的版本——
Encyclopædia Britannica 収録項目の翻訳に際しては、欧米中心の視点に偏らないよう配慮がなされ、他方で日本中心の記述にも陥らないよう、 真の国際百科事典を目指して編集が行なわれました。
而根据其主编吉布尼所说,中国后来编译《简明不列颠百科全书》是因为受了此书影响——
The idea of translating the Britannica 10-volume ready-reference Micropaedia into Chinese as a supplement came almost by accident during my first visit to Peking. When the Chinese editors heard about a similar reference effort I had edited in Japan, part of a 29-volume Japanese-language Britannica, they were intrigued.
……In Japan, we had heavily abridged the Britannica to fit the taste of Japanese readers.The Chinese did not want that. "Just let's translate Britannica as it is," they argued, "We want our students and young people to see for themselves what the world outside is saying and thinking."
……Visiting Deng in late 1985, we were told flatly: "The encyclopedia is a key step in our Four Modernizations . . . .We need this and more books like it to educate our people. We will continue in this effort.
和英版分为Micropaedia和Macropaedia一样,日版也分"小項目版"和"大項目版"两部分——前者是短条目、信息检索向;后者是长条目、知识教育向。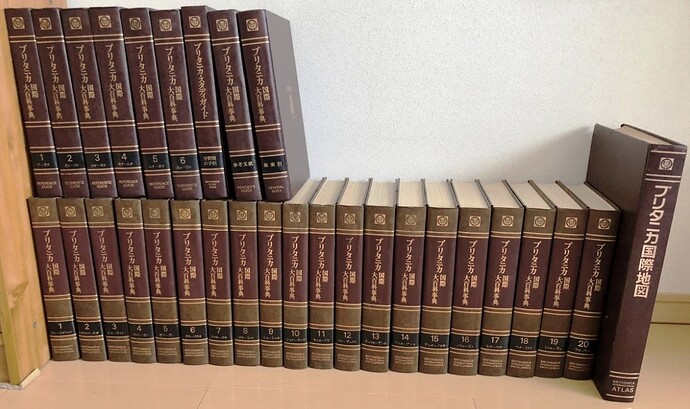 左上角6册即是这里的"小項目版";而底下20册则为"大項目版"。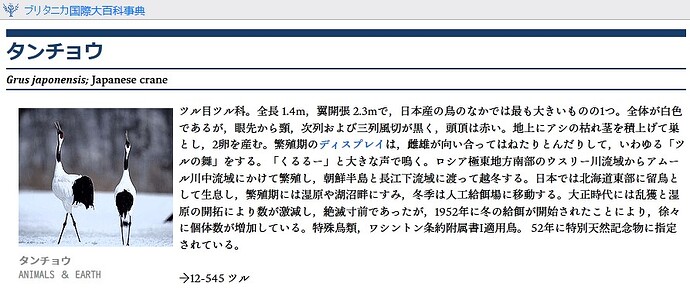 注意条目下方的"→12-545 ツル",是指详细内容可参阅"大項目版"第12册中的相关条目。(当然,这些内容这里并没有……)